From Ange Coniglio:
nospam.RemembertheAFL@aol.com
http://www.conigliofamily.com/AFL.htm
21 Feb 2004
14:01:27
Hello, American Football League fans! Your messages will look like this, and will be posted below. Welcome to the AFL Guest Book. Regards, Ange Coniglio
From Chris Burford:
nospam.cburiiii@aol.com
21 Feb 2004
15:42:21
Ange...Your site has really captured the AFL as it was....the upgrade is truly a beautiful job, I don't know how you do it. Sure is fun scrolling and strolling back down memory lane...Thanks for your efforts to promote the AFL. It was a wonderful time.
Best personal regards, Chris Burford, Texans/Chiefs
From Charles Oakey:
San Diego, CA
21 Feb 2004
15:54:18
My name is Charles Oakey. Don't let it surprise you when I tell you I attended the very first Oakland Raider game ever played (July 31, 1960, at Kezar Stadium in San Francisco)
I loved the American Football League!
From Dennis Riehman:
nospam.nyjetdad@aol.com
21 Feb 2004
16:14:05
As a guy growing up in the Bronx, now 52 years old, I have been asked many times why a Jets fan and such a dislike for the Giants? Well to avoid being long winded, the excitement, passing and scoring of the AFL led me to watch, over the NFL games. When Joe Willie hit the town it was all over for the NFL! Even after the Super Bowl III win my friends who were Giant fans still were telling me it was a fluke and that the 7-7 Giants were better. Well August 1969 Jets vs. Giants 37-14 Jet win put that to rest!! Needless to say I've been attending Jets games ever since!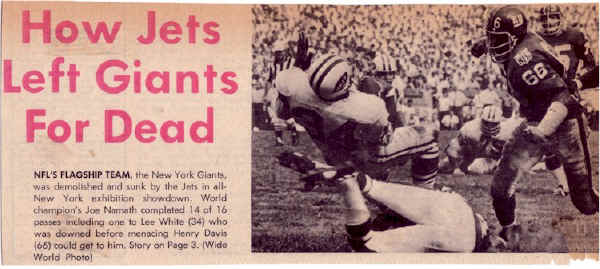 Interesting that there was such passion over EXHIBITION games!
All because of AFL-NFL rivalry, which the merger killed.
From Todd Tobias:
nospam.toddtobias@cox.net
San Diego, CA
21 Feb 2004
17:50:06
Great Job, Ange! This is undoubtedly the greatest AFL site on the web. I am a huge fan of the Los Angeles and San Diego Chargers of the AFL, and I think that they (not to mention the rest of the league) are underappreciated. Alworth, Namath, Dawson, Mix, Blanda, Otto, and so many others are among the greatest names in the game. Thanks, Ange for making this available to us all.
From Al Fecteau:
nospam.FecteauSports@aol.com
1320 South Madison Avenue #234
Douglas, GA 31533
21 Feb 2004
18:15:08
AFL FANS !!
The greatest rival league in the history of pro sports in America -- that's the title that doubtless no league will ever be able to wrestle away from the AFL. No other rival league, in any sport, saw ALL its members survive and merge with the "established" league.
As for me, I saw the last game the Boston Patriots ever played as "Boston" in Harvard Stadium in 1970 -- same year as realignment. The next year, the team became "New England" -- after a brief period of about two weeks when the team was named the "Bay State Patriots." It took ownership that long to figure out how "Bay State" would likely be abbreviated in the sports pages and on the networks. :-)
Go, you "BS Pats" !! Al Fecteau, Douglas, GA by way of NH
From W. Eugene Jessup:
nospam.dogotto@aol.com
21 Feb 2004
19:00:00 (posted 16:53:00)
Hello Ange:
Thank you again for putting this terrific site together! I would rather relive the years of the AFL (in both leagues) than watch today's lesser pro game.
When I was about 8 in 1960, I remember riding my bicycle to the "variety" (five and dime) store to buy some gum and a set of football cards. When I got home, I realized that I had purchased a brand of cards that I had never seen before! These cards featured teams and players that I had never heard of! Boy, was I steamed! I had mowed lawns to earn my spending money, and I didn't want cards of some no-name players from a no-name league! I remember one was a logo card of the Los Angeles Chargers! Boy, how I wish I had saved those first-issue cards!
As the years went by, I began to watch the AFL games (usually from the West Coast) after the NFL games ended. (Back then, many NFL/CBS affiliates carried only one game every Sunday.) The AFL offered a wide-open style of play and de-emphasized defense. Early on, NFL "purists" refused to take it seriously, but it was fun! As the years went by, the bidding wars for players was a blast to follow! ABC was the first TV network to carry the AFL, but it lost too much money. When Sonny Werblin bought the pitifully inept NY Titans, renamed them the Jets, and signed Joe Namath for an unimaginable $400,000 single season salary, the AFL signed a new TV contract with NBC. That contract gave "the other league" a lifesaving transfusion, and the quality of play rose exponentially as the AFL signed more and more big-name college stars.
At Amazon .com, I have put up a viewer's review of the video tape entitled "History of the AFL." That video effort is much too short, and the real fan of pro football history will prefer the coffee-table, photo and text history of the AFL, entitled "The Other League: The Fabulous History of the American Football League." That book is now out of print, but I recently paid Powell's Books to search for, and find, a used copy of it for a Buffalo Bills fan/friend of mine. It is a terrific read, and gives a good account of how the players and innovative coaches of the ever-maturing AFL laid the foundation of the "modern" game over its ten-year existence.
Between the 1964 and 65 seasons (when the Packers were beginning to dominate the NFL) and the 1968 and 69 seasons (when the AFL's Jets and Chiefs won Super Bowls III and IV), the pro game reached a peak that, I believe, it has failed to revisit since. Under the terms of the merger, which the AFL's surprising success forced the NFL to accept, the two leagues conducted a joint draft after the 1966 season. Otherwise, the leagues wisely maintained their independence through the 1969 season, playing separate schedules and a World Championship (Super Bowl) game. Only the league's champions squared off (in the first four Super Bowls). The other franchises had not been permitted to play interleague games until the arrival of the 1967 preseason.
Monday Night Football (MNF) began in 1970, the year in which the merger took full effect. That was the season in which the Baltimore Colts, Pittsburgh Steelers, and Cleveland Browns joined the ten AFL franchises to make up the American Football Conference (AFC).
Because I collect VHS tapes of great pro games and Georgia Bulldog games, I am particularly interested in obtaining some other older NFL/AFL (pre-merger) tapes, especially of the Packers teams of 65, 66, and 67. If any exist, I'd especially like to find any tapes of the first set of interleague (NFL/AFL) preseason games, which were played after the first "World Championship Game" (in which the Packers beat the Chiefs) and before the 1967 (official) season. Another AFL fan and tape trader, just sent me two fantastic AFL film "histories, "Rebels With A Cause," which was produced by HBO, and the NFL Films (Steve Sabol's) "Lost Treasures" tape. I've had a load of fun watching them, and I hoped that you might be able to tell me about others out there, which I could add to my collection. In one of those preseason games, which the "Rebels" documentary does a good job of detailing, the Chiefs beat the Bears by a shocking score of 66-24! George Halas, in commenting on the long-derided, and supposedly "inferior" brand of AFL football (which had come of age), was quoted as saying "Those guys can play for me anytime!"
Recently I traded for a good copy of the (B&W) historic, 1962 double-OT AFL Championship game between the Dallas Texans and the Houston Oilers. Curt Gowdy calls the game on ABC's "Wide World of Sports," and it really is a lot of fun to watch such stars as George Blanda, Len Dawson, Johnny Robinson, Abner Haynes, and Billy Cannon, all of whom (except Blanda and Dawson) were relatively new to pro football. It's a kick to see a young Hank Stram too.
I have also been lucky enough recently to trade for a rare 1970 MNF game (first season of MNF!) between the defending World Champion Chiefs, and the Baltimore Colts, who went on later that season, the first post-merger season, to win SB V ("The Blunder Bowl") over the Cowboys. In this game, the Chiefs crushed the Colts 44-24, but the game is really interesting nevertheless. The original MNF crew of Cosell, Don Meredith and Keith Jackson really were pretty good. Most of the commercials were edited out, but a few fun ones remain (Firestone tires, Benson and Hedges smokes, Schick razor blades). You can tell that the Colts were talented, but just having a bad night. Of course, the Chiefs' awesome defense had a lot to do with causing the Colts to look confused! Lots of stars for both teams: Chiefs: Len Dawson, Ed Podolak (in his rookie season), Buck Buchanan, Willie Lanier, Johnny Robinson, Curly Culp, Aaron Brown, Bobby Bell, Warren McVey, Mike Garrett, et. al. Colts: Johnny Unitas, Earl Morral, Mike Curtis, Billy Ray Smith, Bubba Smith, Ted Hedricks, Ray Perkins, Norm Bulaich, et. al.
If you can help me to find tapes of the greatest era in pro football history, I would be mighty grateful to you. In turn, if you would like me to send you links to AFL fans/collectors sites as I come across them (such as the one or two that I know about now), please let me know.
With best wishes, I am . . . Yours truly, Gene Jessup
From Rob J. Skaltsis:
nospam.Buzzball31@comcast.net
71 Montvale Avenue # 30
Stoneham MA 02180
21 Feb 2004
19:45:32
Thank you Ange,
As a life long Boston Patriots fan, and season ticket holder from 1964-2000 I so appriciate your site. It really captures the feel of the old AFL as I remember it as a boy.
My Step-Dad, sadly, left us in January of this year. There were times when the only thing we had in common was our love for his beloved "Pats". He spent his entire childhood, like many in Boston, as a Giants fan, until the AFL came along to capture his heart. He used to tell me how lucky I was to have a team of my own. He waited his entire life to see the Patriots win a championship. Finally in 2001, while he was too ill to attend a single game, his dream came true. We looked over this site together last year, and it brought back so many fond memories. And so finally I do recognize how lucky I am to have had a team that we could call our own, and a Dad to share the "New" league with.
Thank you Gino, Tommy, Babe, Jimmy, Houston, Nick, Tonto, Bobby, et. al., for all the great times when my Dad was young, and strong, and thanks you Ange, for giving us something to look back on in his last days.
"Go Pats"
In loving memory of Henry "Butch" Ryan of South Boston, MA
Rob J. Skaltsis - Stoneham MA
From Mike Steber:
nospam.steber5@charter.net
21 Feb 2004
22:22:38
Wow! What a fantastic site! It's sites like this that prove the worth, and the lofty intents of the Internet. AFL aficionados now have a place to look back at the players, teams, exploits, achievements, uniforms, and memories of the league that finally made football exciting. I grew up a Vikings fan, not knowing how close they were to being an original member of the AFL. But as a youngster rooting for the locals, I always hated the AFL, and considered them the inferior league. My brother (a Packers fan) and I mocked the AFL, and hated such AFL stars as Ben Davidson, asking ourselves what sort of self-respecting football player would wear a handlebar mustache. Now that I'm much, much, much (Help! I can't stop!)older, I've grown to appreciate the wide-open style of AFL football, and wish that era of play (the 1960s) was still alive. I miss football played on less-than-ideal turf, football played in mud, football played on a field shoehorned into an old baseball stadium, and football played by guys whose first love was the game, and not the attending bling bling.
My appreciation for the Vikings has faded significantly, even though I still go to about six or seven games a year. In the last 15 years I've become more of a Chiefs fan than a Vikings fan simply because I don't think the Chiefs are as arrogant an organization as the Vikings. I believe this stems from their roots in a more down to earth league; a league where every member team started out humbly, and had to earn the respect and attention of fans. My brother and I try to attend a Chiefs game every so often, seeing them every time they play at Minnesota, and even making an occasional trip to Kansas City for a game. I've changed my ways and changed my mind about the AFL, and fondly recall the history and contributions of that great league. I've even become a die-hard Ben Davidson fan, and now consider a handle bar mustache to be a more than appropriate facial accessory for the well-groomed defensive end. So it was a THRILL to actually meet, and have a beer with Ben in 1986. Of course, we toasted the AFL and its member teams and dedicated athletes.
Thanks for bringing back such fond memories!
From Bob Ginther:
nospam.bobginther@msn.com
Pottsville PA
22 Feb 2004
04:50:12
I get this question every year, Ange. How does a kid from Pottsville Pa. wind up a Raiders fan? Well, the Eagles rarely sold out, they weren't that good anyway, and they had just traded away a a young QB by the name of Jurgensen to the Redskins. The Steelers were too far away, they were the doormats of the NFL and neither team was on TV. BUT...the AFL was on every week. When we'd play pick up games in the neighborhood the older guys would make us be AFL players. It was a pretty good joke until we won Super Bowl 3 and 4. Then it wasn't funny any more. I'll always remember the Refs with their red & white stripes and red penalty flags. It was great and, in a way, I kinda miss it, Ange.
Bob: There were more than a few AFL fans from "NFL areas". You're also typical of AFL fans, in that you refer to ANY American Football League team as "we". WE beat the NFL in Super Bowl III and WE beat them in Super Bowl IV, even though it was with two different teams! Remember the AFL
From Phil Lagoy:
nospam.phlllag@aol.com
22 Feb 2004
06:07:55
Just great! I now get the NFL Network. Last night they showed WFL highlights. Do you know if NFL Films took posession of the AFL film library? Phil Lagoy
Phil: "Under the terms of the merger", AFL FILMS was acquired by the NFL and NFL Films. I'm not sure about individual AFL teams' film libraries. Remember the AFL
From Tony Petrasko:

I just wanted to say that being an AFL diehard, this website is totally awesome!!! You have done a wonderful job in capturing the essence of the AFL. I have always wanted to tell someone this and you seem to be the perfect person to tell this bit of history to. I have always been disappointed that the 1968 season AFL championship game was played in New York instead of Oakland. Being a diehard Raiders fan, I feel the Raiders were totally screwed out of going to Super Bowl III. If that game would have been played in Oakland, there is no doubt in my mind that the Raiders would have won that game. To have the best record that year (12-2-0) and beat the Jets in Oakland that season ( the Heidi game) and then have to go and play the Jets in New York was just not right. What is the point of having the best record in the league that season and having to play the game on the road? I would like your comments on this issue. Disgruntled in Stow, Ohio and a lifelong Raiders fan!!!
Tony Petrasko
Tony: I was more of a Raiders fan than a Jets fan at the time (they had some ex-Bill named Daryle Lamonica), and I felt the same way. I'll always be grateful to Namath and the Jets for shutting up the NFL blowhards, but I think, the Raiders having been there before, that they would have destroyed the Colts even worse than the Jets did! I also lobbied for Super Bowls to be played in the stadium of the team with the best record. That fell on deaf ears. Remember
the AFL
From Rusty Brewer:
nospam.bjrbbhaw@yahoo.com
http://www.swustudents.com/~rbrewer/Sunny/Beach%20Boys/index.htm
104 Truman St.
Easley, SC 29642
22 Feb 2004
09:35:54
The American Football League was a radical entertainment juggernaut that changed the face of professional football in the 1960s. The colorful uniforms, pass offense, drafting many great black players and from small colleges, and gritty play contrasted the NFL in every way. The greatest game ever played was not the 1958 NFL Championship Game although it was critical to the popularity of professional football later on. The greatest game ever played was either Super Bowl III or the Heidi Game. The transformation of pro football took place in 1959 with the beginning of the AFL, one year after the [so-called Colts-Giants] "Greatest Game Ever Played." If it weren't for the AFL, there would not be any of the West-Coast offenses later such as Montana to Rice & Taylor, Bradshaw to Swann & Stallworth, and Culpepper to Moss & Carter, etc. There would not be a Super Bowl if the AFL had not existed. Go Jets!! and Go Bills!!
From Billy Russo:
nospam.billy53@optonline.net
Floral Park, NY 11001
22 Feb 2004
09:57:54
Hi Ange,
I must tell you that your site brings me back to a time when my passion for the sport reached its pinnacle. I'm in my 50's now and still long for the fast paced, wide-open game, that was the trademark of the AFL. As a Titans/Jets fan (hated the Giants), I got tired of hopping the fence at Shea Stadium (The right field side by the scoreboard used to be a players parking lot and easy to slip past the guard at the gate and disappear into the crowd). So I got a job as a vendor at Shea just to watch the games, hardly made any money. To me, in those days, the NFL was like watching paint dry at the opera. The AFL was a day at the beach with a belly full of beer, so innovative and refreshing that I thought and wished that the starchy, old establishment of the NFL would be run out of town.
I long for the days of waiting in line and sleeping overnight at Shea in 1968 just to purchase a "standing room only" ticket for the outrageous sum of $5.00, and being treated to one of the BEST football games I've ever seen. That's what the AFL meant to me and still does. I would do it over in a heartbeat if I could.
You brought back many great memories … I only wish they were still here. I'm still a season ticket holder (NYJets, 30 years) but it "ain't like it used to be". Billy Russo
From Jack Barry:
nospam.jackbarry99@earthlink.net
1627 Tenth Ave
San Francisco, CA 94122-3624
22 Feb 2004
10:01:05
I am now 59, and resident in San Francisco, since 1969, when I moved here from Boston.
Though the Niners have been successful, I always root for the Pats over the Niners or Raiders.
I was at the first Pats game, at B.U. Field, against the Broncos, and Gene Mingo and Frank Tripucka, with those vertically striped stockings.
Memories: Larry Garron's smile. Ron Burton's swivel hips. Gino's kicks. The Babe's scrambles. Shonta, O'Hanley, Ron Hall, Nick#85, Tommy Addison, ....on and on.
I was always in awe of the Chargers, from my N.E. base. Their little gem of a stadium, in Balboa Park,....still has parts left to be seen, a relic of the early AFL glory. Jack Barry