.
1962 American Football League (AFL) Eastern Division All-stars
(click on photo for large view)
.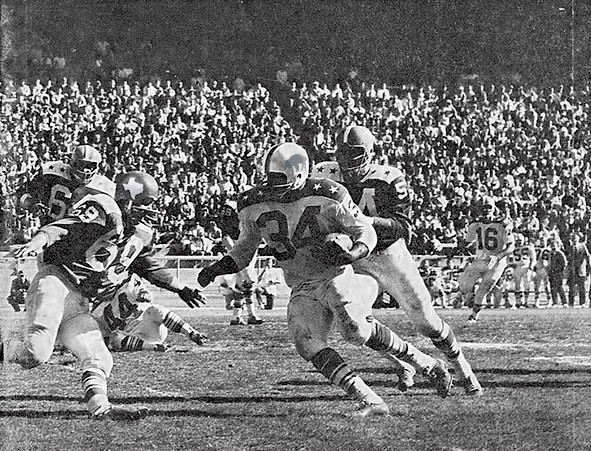 After a handoff from the Oilers' George Blanda (16),
the Bills' Cookie Gilchrist is pursued by the Texans'' Sherrill Headrick (69),
and the Broncos' Bud McFadin (64) and Jim Fraser (54).
AFL ALL-STAR GAME SUMMARY
The link below will take you to a game summary, originally created by Mark Bolding. Most of the content of this and the other AFL All-Star Game summaries was retrieved from the 'Internet Archive Wayback Machine' at archive.org/web/web.php, which claims copyright for the work.
Bolding's original site classified the games by the calendar year they were played in. Since they were played at the end of AFL seasons and the All-Stars involved were so chosen for their play in those seasons, I classify them by the AFL season which they represented. Thus the AFL All-Star Game that featured stars of the 1962 season was played in January 1963.
©2003 American Football League Hall of Fame All rights reserved. Duplicate in any form you like, if you're an AFL fan.
You have the permission of the American Football League Hall of Fame. Please credit/link to: http://www.remembertheafl.com
Last revision: 01 December 2018 ~ Angelo F. Coniglio, nospam.RemembertheAFL@aol.com