ABNER HAYNES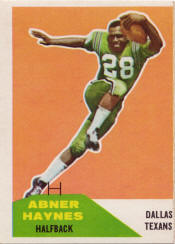 Click here for more
In 1956 Abner Haynes attended North Texas State University (now the

University of North Texas), where he helped make the school one of the first in Texas to integrate its football program. In 1960, Haynes chose to play for the Dallas Texans and led the American Football League in rushing attempts, yards, and TDs in the league's first year. Haynes helped launch the AFL in 1960, when he was the fledgling league's first Most Valuable Player, and its first Rookie of the Year. He captured the AFL's first rushing crown with 875 yards, and also led the Texans in receiving, punt returns, and kickoff returns. Haynes spent three years in Dallas and two with the Kansas City Chiefs. Haynes still owns 11 franchise records, including most points in a game (30), most touchdowns in a season (19), most touchdowns in a game (5), most career 100-yard rushing games (12), most career rushing touchdowns (39) and most career combined yards (8,442). Over his career he was regularly among the American Football League's top ten rushers, ranking third all-time, and the all-time leader in touchdowns, with 46. He was Hall of Fame head coach Hank Stram's most versatile and dangerous weapon from 1960-62, amassing 43 touchdowns and 4,472 yards on rushes and receptions. In 1962, he helped the Texans win the American Football League championship in the classic double-overtime victory over the defending champion Houston Oilers, scoring touchdowns on a 28-yard pass reception from quarterback Len Dawson, and on a 2-yard run.
"He was a franchise player before they talked about franchise players," praised Stram. "He did it all - rushing, receiving, kickoff returns, punt returns. He gave us the dimension we needed to be a good team in Dallas."
The 6-foot-1, 200-pound Haynes, who had great speed and dazzling moves in the open field, set AFL records with 5 touchdowns in a game and 19 touchdowns in a season in 1961, and with 46 career rushing touchdowns. He also played for the Denver Broncos, the Miami Dolphins, and the New York Jets.
During his 8 professional seasons, Haynes carried the ball 1,036 times for 4,630 yards, a 4.5 average; caught 287 passes for 3,535 yards, a 12.3 average

, and 20 TDs.
Haynes returned 85 punts for 875 yards, a 10.3 average, and 1 touchdown; and ran back 121 kickoffs for 3,025 yards, a 25.0 average, and 1 touchdown, and ran a recovered fumble back for a td: 69 total touchdowns, for 414 points.His 12,065 combined yards is the American Football League record. Haynes had three games in which he gained 100 or more yards on 14 or fewer carries. He sponsors

"Heroes of Football" a program that re-connects pro football players with communities and charities. Abner Haynes is a 2007 inductee to the Texas Sports Hall of Fame